Apologia Educational Ministries
is one of the most popular creation based homeschool curriculum companies out there. They produce quality material in Science, History, Worldview, and Homeschooling Parenting Resources.
Unequivocally, our homeschool is largely based upon the sciences. Given, Mr. Nerdy's profession and penchant for sciency things, he has passed down that love to our kidlets. My daughter right now is having one heck of a time trying to decide whether to be a herpetologist, entomologist or ornithologist. Choices, choices, right? Needless to say, we like science. A lot.
That love of science has kept our studies rooted in the Apologia Young Explorers Science Series This series has been a mainstay for our science curriculum since we started homeschooling.. We have used their elementary Botany, Anatomy, and recently just finished Land Animals of the 6th day.
So, wouldn't you know, it was a super duper treat to be have the chance to review
Exploring Creation with Zoology 1...Flying Creatures of the Fifth Day
plus the
Zoology 1 Student Notebook
.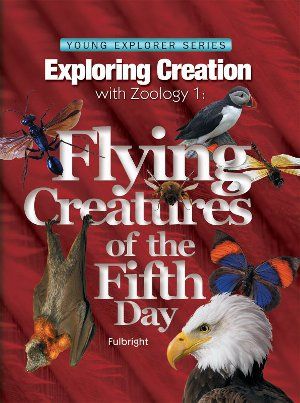 All about the TEXTBOOK:

Flying Creatures of the Fifth Day is a creation based elementary science text written in the Charlotte Mason Style of learning, a topic thoroughly taught through the living book style with notebooking, narration, nature walks, and experiments.

The text starts with the an introduction into Zoology, and then goes directly into a detailed study of birds. After birds comes, bats, flying reptiles, and insects. (For the table of contents and sample of Lesson 1 in Flying Creatures of the Fifth Day click here)
This book would be suitable for a complete years worth of science curriculum for your
homeschool
. Suggested age range for this text is grades k-6
.
glider experiment from lesson 1. Yep, they are made from Mac N Cheese boxes, how could you tell?



All about the NOTEBOOK:
The corresponding notebook for Flying Creatures of the Fifth Day contains notebooking pages. scriptural copywork, crossword puzzles, scientific observation sheets, review questions, extension activities, field trip sheets, book suggestions, and colorful mini-books in the lapbook style. The notebook also contains a rather handy scope of how to break down your lessons by doing to science classes a week lasting a total of 28 weeks of science.
The notebook can come in a
Junior Version
, for grades k-2 or those who have not yet mastered handwriting or narration. It also comes in the
regular version
, suitable for mid to upper elementary level students or grades 3-6.
How the Nerdy Family rocked Zoology 1:
My two oldest kids, who are in the 6th and 4th grade were the primary students during the review. Our goal was to shoot for two science classes per week. They ended up asking to do this science more often. (Remember when I told you they were into science?) We hit Zoology 1 on average three times a week, which usually included and experiment or extension activity on the weekend.
Since, doing several of Apologia's Elementary Science Series, I have learned how to tweak and teach it in the best way that my children learn. While the text at some points reads like a narrative from the authors perspective, I do not read it verbatim to my kids. I take the bits and pieces from it, such as interesting facts, definitions, illustrations, and pictures and teach it to them like I would teach it to a class, white board and all. It is not the fact that the text is boring, I just personally would loose my two kiddos if I sat at the table and read through it word for word.
This is where my notebook love comes into play. For my kids, the corresponding notebook is always essential. It is worth every penny to buy it. As I teach, they actively are listening by taking notes from my trusty whiteboard. This keeps them very engaged as I talk. In the notebook there are spaces for drawing pictures along with writing out definitions. I also love this notebook because the completed pages look so very nice in our end of the year homeschooling portfolio's that have to go into our district.
Throughout the text, there are ideas and options for extension activities. What I like about these activities are that they usually do not require me to run all around the county looking for the supplies, most are already on hand in our house.
Apologia's Science Texts are not a make it or break it kind of book. There are innumerable options for you to increase your child's understanding during the lessons through the activities, but these options are flexible. You do not have to do absolutely everything to get the full effect of being educated about the topic at hand. (An example would be the nature walk suggested in lesson 1. We had several weeks of bitterly cold weather here in our area....so we did skip that.)
Above: Examples of mini-books found in the back of the notebook for each lesson and my kiddos favorite activity thus far...mapping the bird.

My famous last words:
The sciences alone were one of our major factors that we took into consideration as we decided to school our troops at home. We wanted our children to be taught young earth creation based science.
The Apologia Young Explorers Science Series fits my kiddos love of delving into science whole hog, perfectly. While the text of Zoology 1 is a heavy hitter, deeply taking you into the world of flying creatures for the year, it fascinatingly weaves the mighty hand of our Creator all throughout the text, which is a win win for us.
If you are looking for the gold standard in creation based sciences for your homeschooler, whether they are in Kindergarten or in 12th grade, look no further than Apologia.
Both the text and notebook that I reviewed along with all the other scientific goodness that is Apologia can be purchased through the Apologia Educational Ministries Website.
You can also connect with Apologia on Facebook, Twitter, and Pinterest
My crew mates reviewed several other Apologia Science Texts. Click the banner below to hear what they had to say.

Disclaimer: I received a free copy of this product through the Schoolhouse Review Crew in exchange for my honest review. I was not required to write a positive review, nor was I compensated in any other way. All of my opinions I have expressed are of my own and that of my family. I am disclosing this in accordance with the FTC regulations.